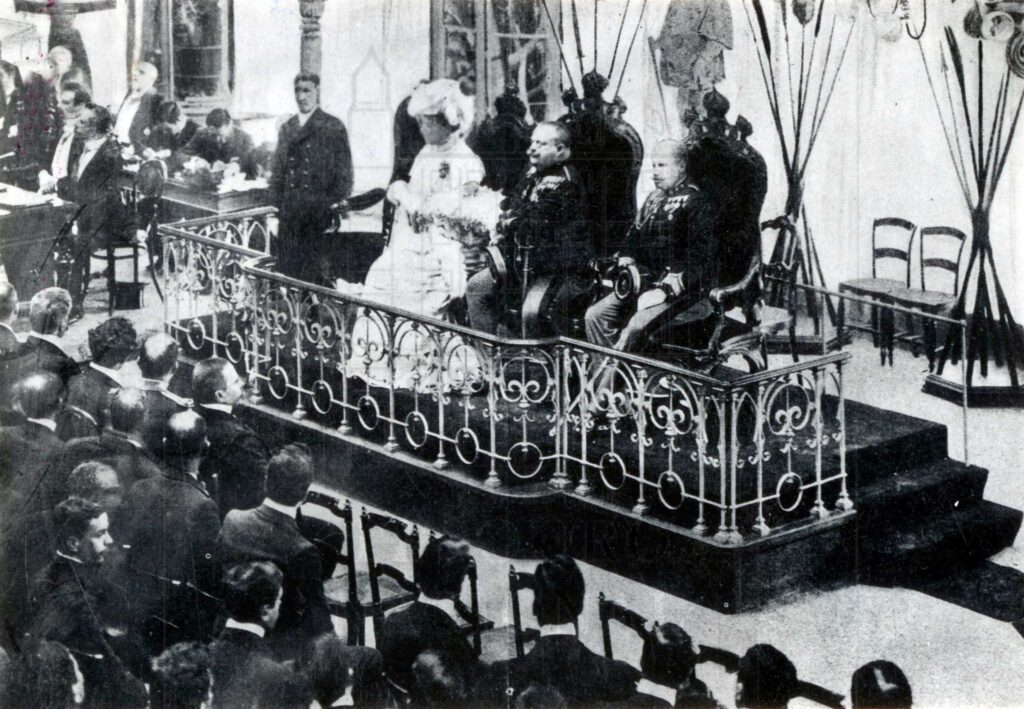 KING D.CARLOS WITH QUEEN D.AMÉLIA
King D. Carlos with Queen D. Amélia and Prince D. Afonso at a farming congress at the Geographic Society
Photo: Illustration Portuguese Magazine/DN Archive
Lisboa, January 1, 1908
REPUBLICANS VICTORIOUS ON THE STREETS OF LISBON
On the Implantation of the Republic day, the armed population watches over the streets of Lisbon. The proclamation of the Republic was made from the balconies of Lisbon City Hall on the morning of October 5, 1910. It was the result of a long process, which began in the 19th century, that had created in the population, especially in some elites, the will to overthrow the monarchy and change the regime
Photo:  DN Archive
Lisbon, October 5, 1910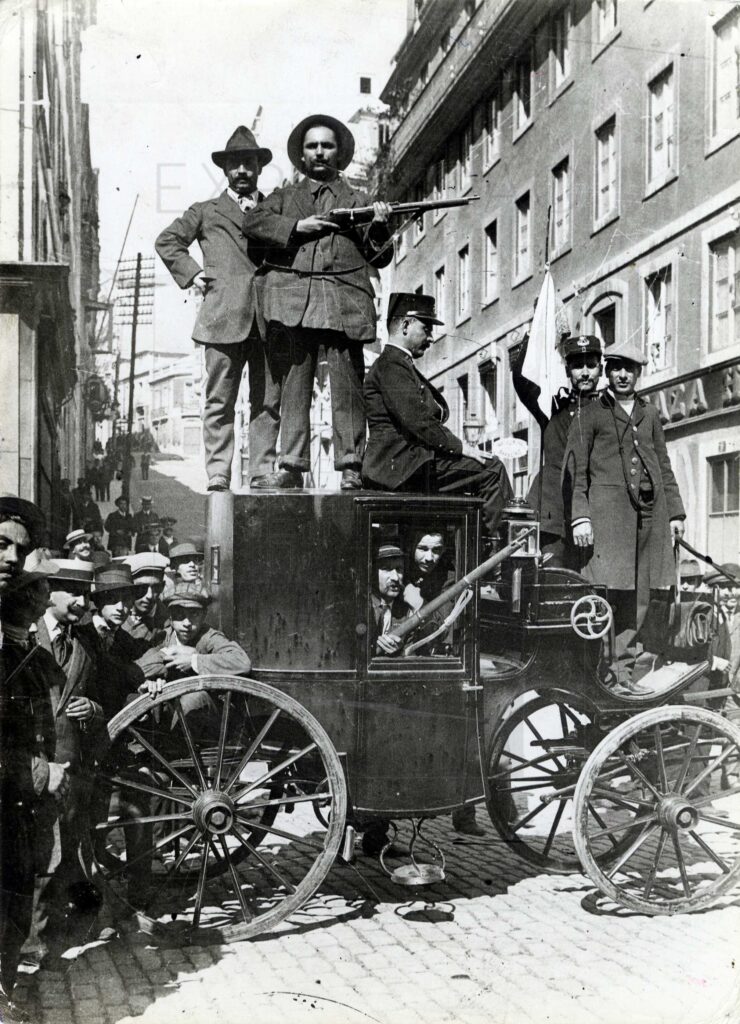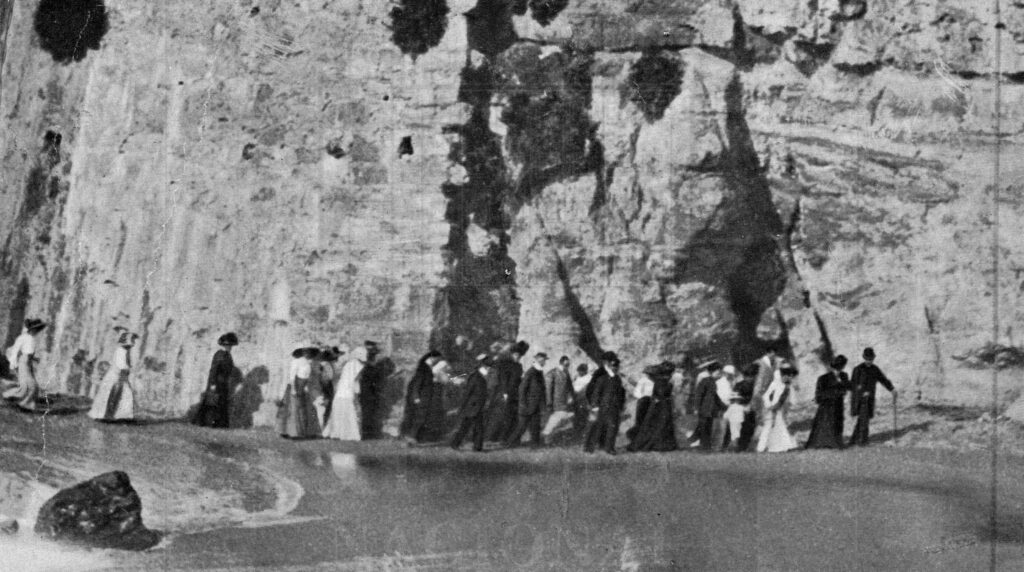 D.MANUEL ll EMBARKS IN ERICEIRA WITH THE ROYAL FAMILY
After almost two years of reign, D. Manuel II, Portugal's last king, was overthrown by a Republican Coup. On October 5, 1910, D. Manuel II embarks in Ericeira with the royal family for exile in England, where he stays until his death
Photo: Illustration Portuguese Magazine/DN Archive
Lisbon, October 5, 1910
ILDA PUGA, THE MUSE OF THE BUST OF THE REPUBLIC
Ilda Puga was the muse of the bust of the Portuguese Republic, officially approved in 1911. The model posed for the statue at the age of 19 and followed almost the entire post-monarchy period, since she lived until 1993, and died at the age of 101
Photo: DN Archive
Lisbon, October 4, 1911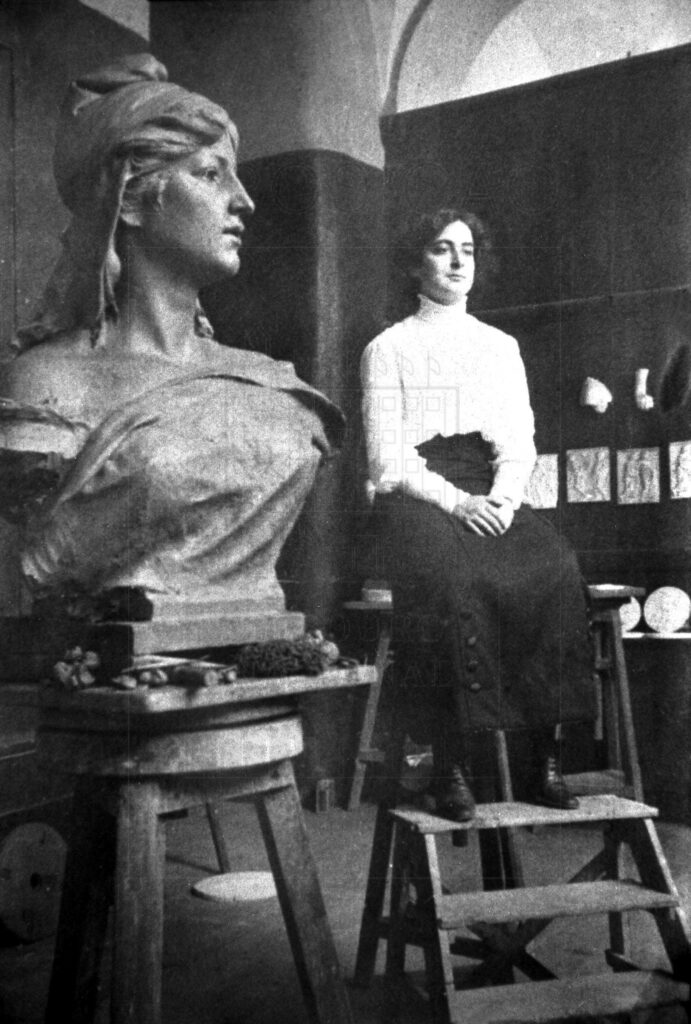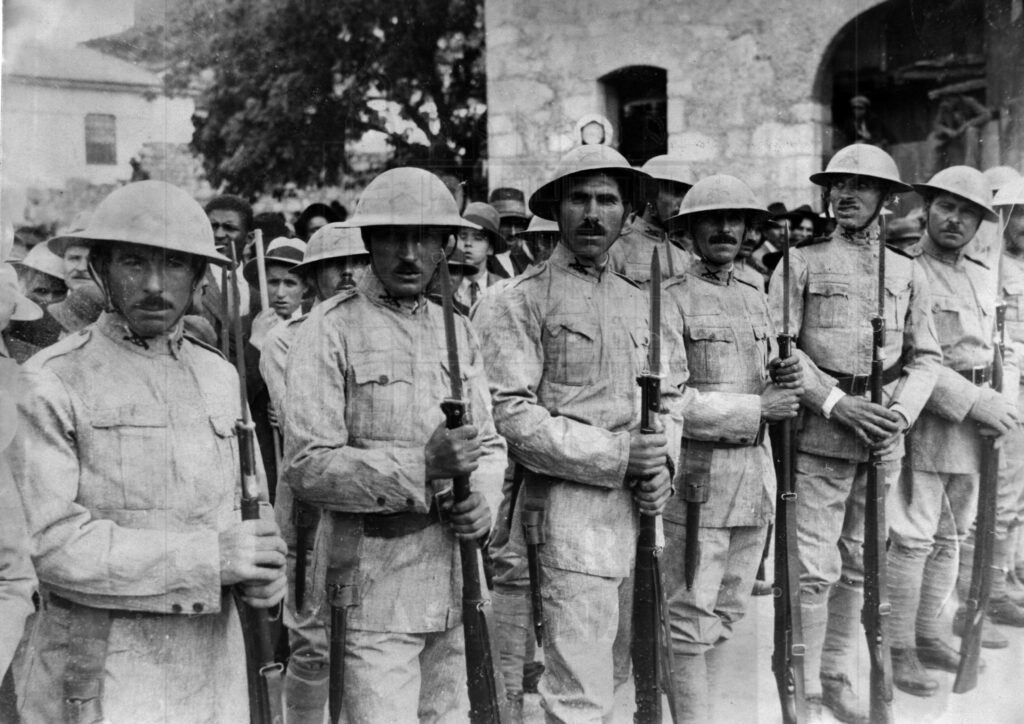 EXPEDITIONARY CORPS IN WORLD WAR I
Portuguese soldiers, known as the Portuguese Expeditionary Force, in World War I
Photo: Illustration Portuguese Magazine/DN Archive
July 24, 1914
The Miracle of the Sun, also known as the Miracle of Fatima, was an event that occurred on October 13, 1917 in Cova da Iria, near Fatima. Months earlier, the little shepherds Jacinta, Francisco and Lucia reported that in the apparition of May 13, the Virgin Mary had promised them a miracle to occur on October 13 in Cova da Iria so that everyone would believe in her apparitions. According to many witnesses' indications, on that day, after a heavy rain, the clouds dissipated, and the sun appeared as an opaque disk spinning in the sky. Some witnesses claim that it was not the sun, but a disk in solar proportions, similar to the moon, accompanied by multicolored lights, which were reflected in the landscape, people and surrounding clouds. Many people thought it was the end of the world. Witnesses reported that previously wet earth and clothes became completely dry in a short period of time, and also reported unexplained healings of paralytics and the blind, and other unexplained illnesses, in several cases proven also by testimonies of doctors. The event was officially accepted as a miracle by the Catholic Church on October 13, 1930
Photo: Illustration Portuguese Magazine/DN Archive
Fátima, October 13, 1917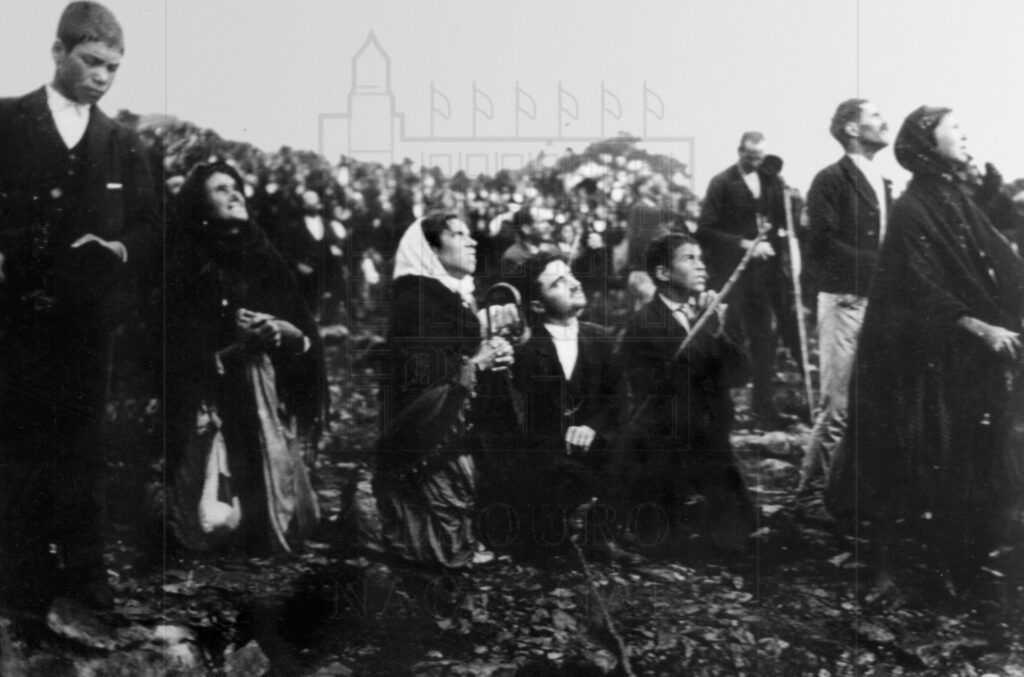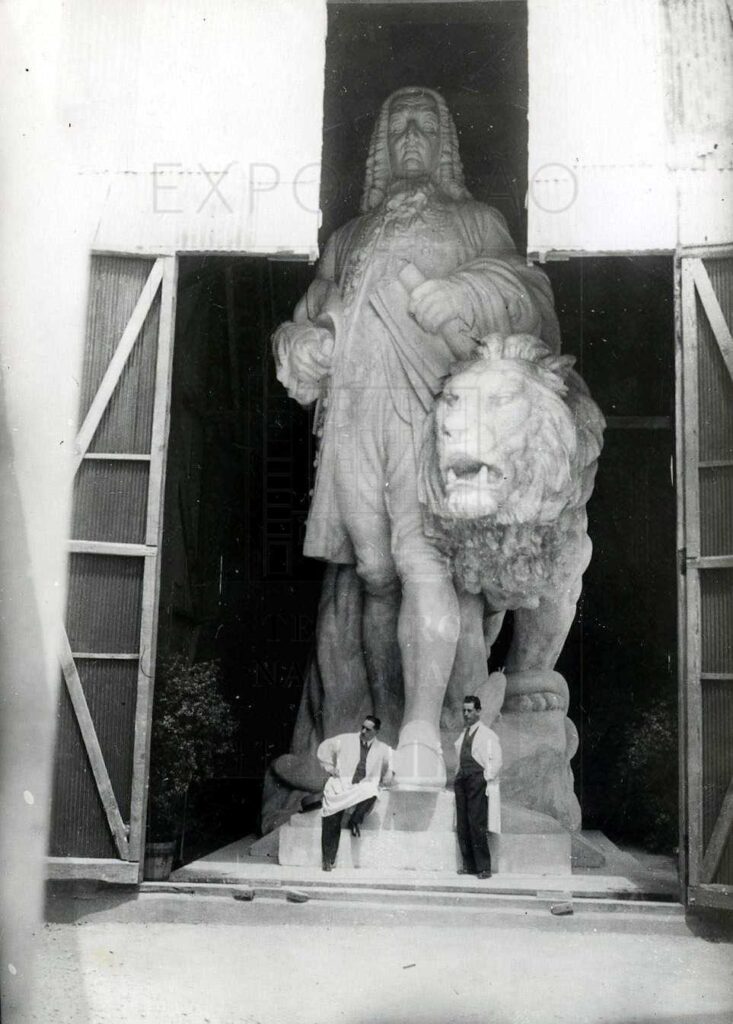 STATUE OF THE MARQUIS OF POMBAL
Sculptors Simões de Almeida and Leopoldo de Almeida next to the statue of the Marquês de Pombal
Photo: DN Archive
Lisbon, May 2, 1932
INAUGURATION OF THE CHRIST THE KING MONUMENT
Religious ceremony for the inauguration of the Cristo Rei monument, in Almada
Photo: DN Archive
Lisbon, May 17, 1959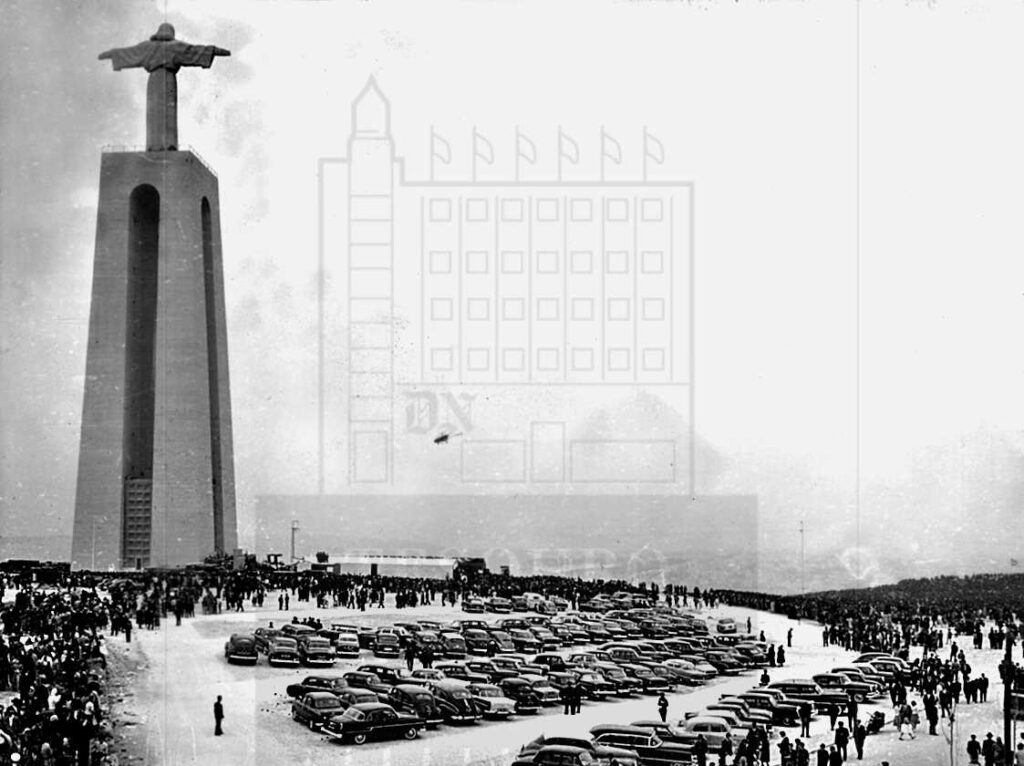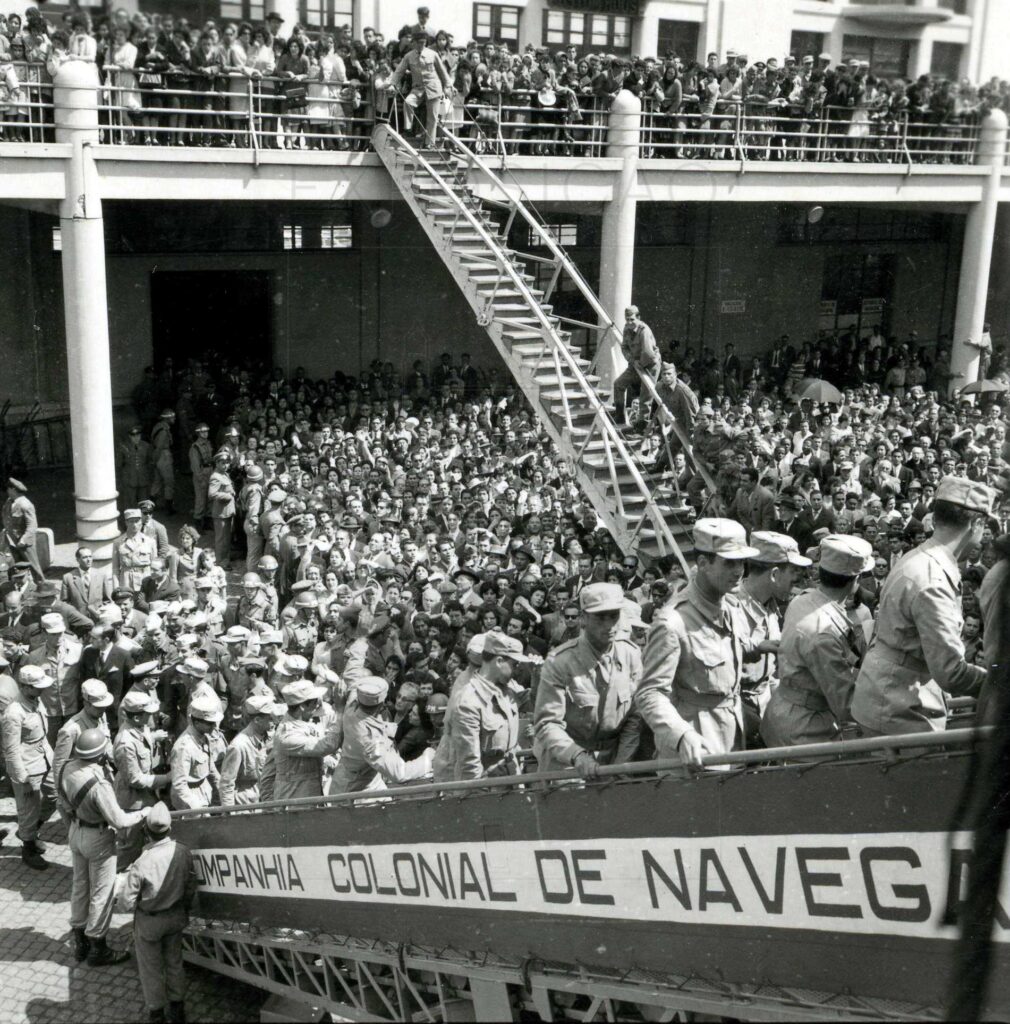 EMBARKING TROOPS FOR ANGOLA
Departure of soldiers from the Portuguese Armed Forces for the Colonial War (Angola)
Photo: DN Archive
Lisbon, May 24, 1961
CAPTAIN SALGUEIRO MAIA INTERVIEWED ON APRIL REVOLUTION DAY
Captain Salgueira Maia being interviewed on the day of the Carnation Revolution, in which he played a decisive role. Fernando Salgueiro Maia was a young captain, 29 years old, when the Armed Forces Movement assigned him a decisive role in the morning of April 25, 1974, the day on which the Estado Novo regime would be overthrown after 48 years of dictatorship. Following the plan drawn up by the Coordinating Commission of the Captains' Movement, Salgueiro Maia commanded the military column that left Santarém towards Lisbon, occupied Terreiro do Paço in the early hours of April 25, 1974, and commanded the siege of Quartel do Carmo which ended with the surrender of Marcelo Caetano, then President of the Council
Photo: DN Archive
Lisbon, April 25, 1974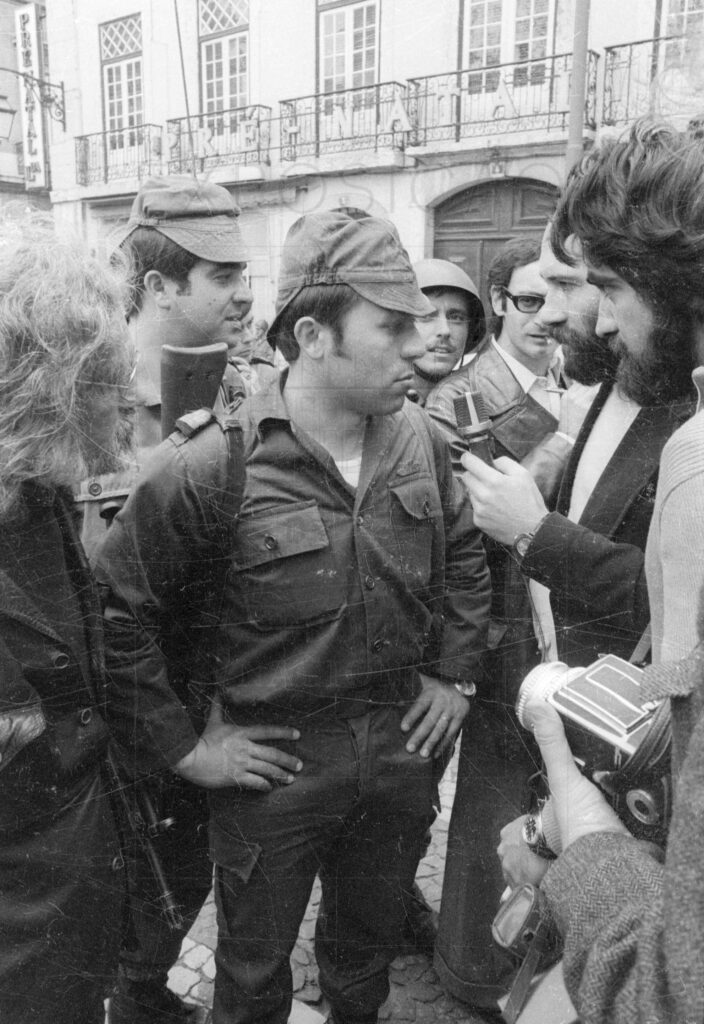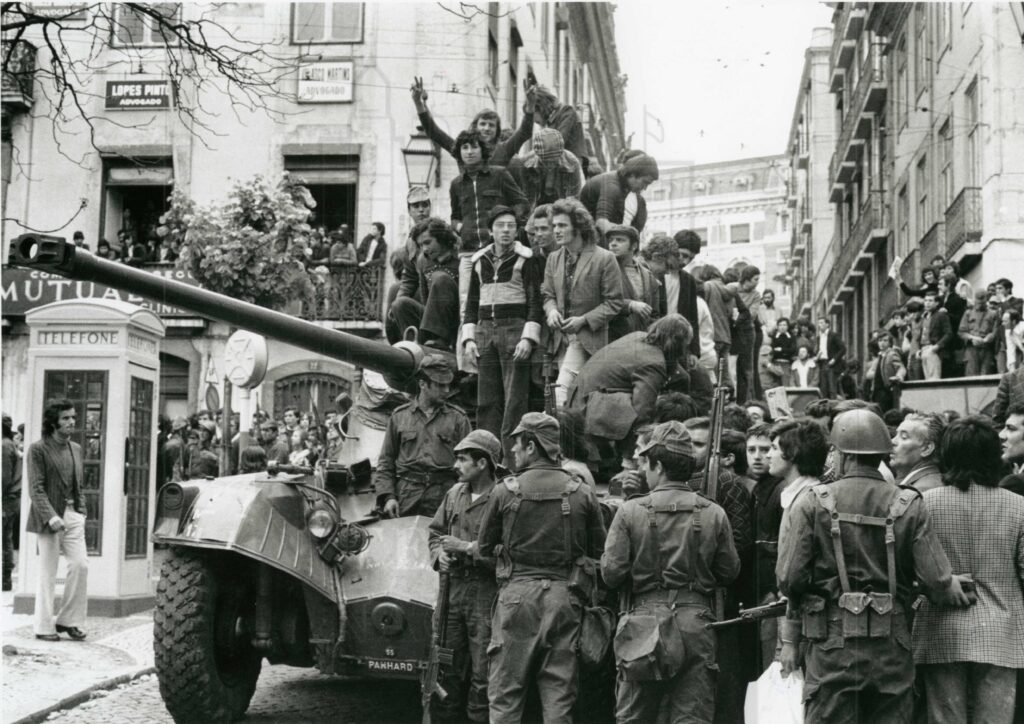 MILITARY AND CIVILIANS IN LARGO DO CARMO WAITING FOR MARCELLO CAETANO'S SURRENDER
April 25, 1974, the day that marks the end of 41 years of uninterrupted dictatorship under the Estado Novo in Portugal. The military and citizens gather in Largo do Carmo to await the surrender of the President of the Council, Marcelo Caetano, Salazar's successor in 1968
Photo: DN Archive
Lisbon, April 25, 1974
THE PRESIDENT OF THE REPUBLIC, COSTA GOMES, SPEAKING AT THE SOLEMN OPENING SESSION OF THE CONSTITUENT ASSEMBLY
The President of the Republic of Portugal, Costa Gomes addresses the 250 deputies elected for the first time in free and democratic elections, and the representatives of the seven political parties with parliamentary seats, at the solemn opening session of the Constituent Assembly. In his message to the deputies, Costa Gomes expressed his wish that the new fundamental law be a revolutionary, advanced Constitution that would not be outdated
Photo: DN Archive
Lisbon, June 2, 1975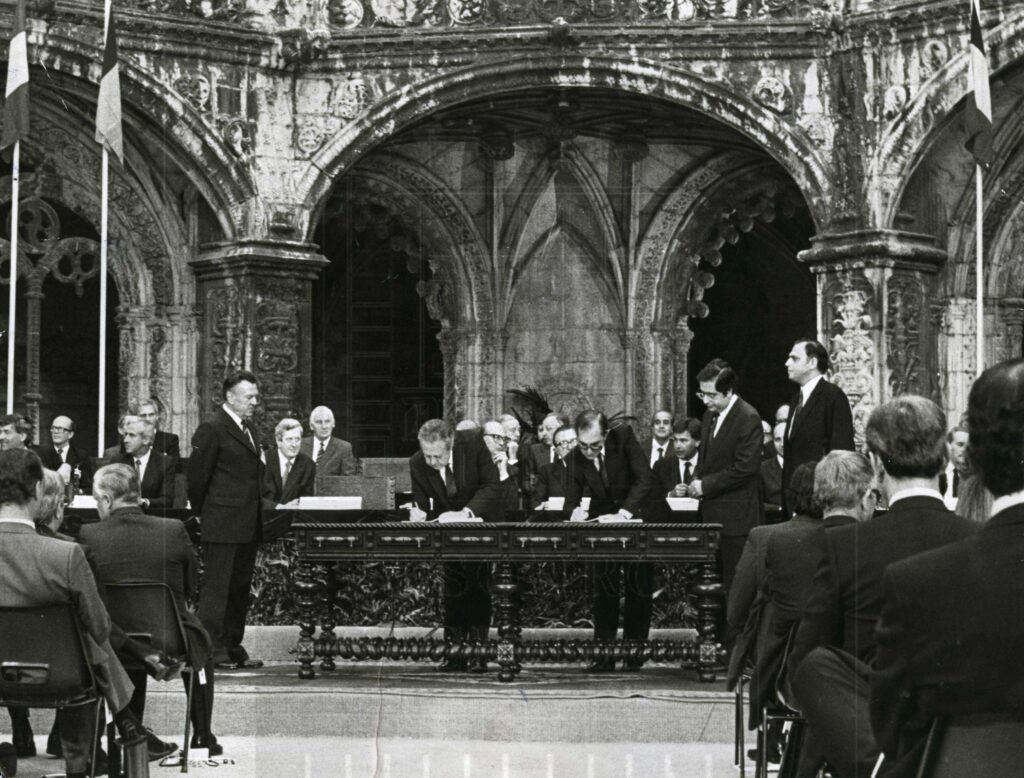 SIGNING OF THE TREATY OF ACCESSION OF PORTUGAL TO THE EEC
Mário Soares and Rui Machete sign the Treaty of Accession of Portugal to the European Economic Community, now the European Union, at the Mosteiro dos Jerónimos (jeronimos monastery)
Photo: DN Archive
Lisbon, June 12, 1985
PORTUGAL TWO-TIME UNDER-20 WORLD CHAMPION
Final of the World Junior Football Championship (Under 20), between Portugal and Brazil, at Estádio da Luz, in Lisbon. Portuguese players celebrate the title and raise the cup
Photo: DN Archive
Lisbon, June 30, 1991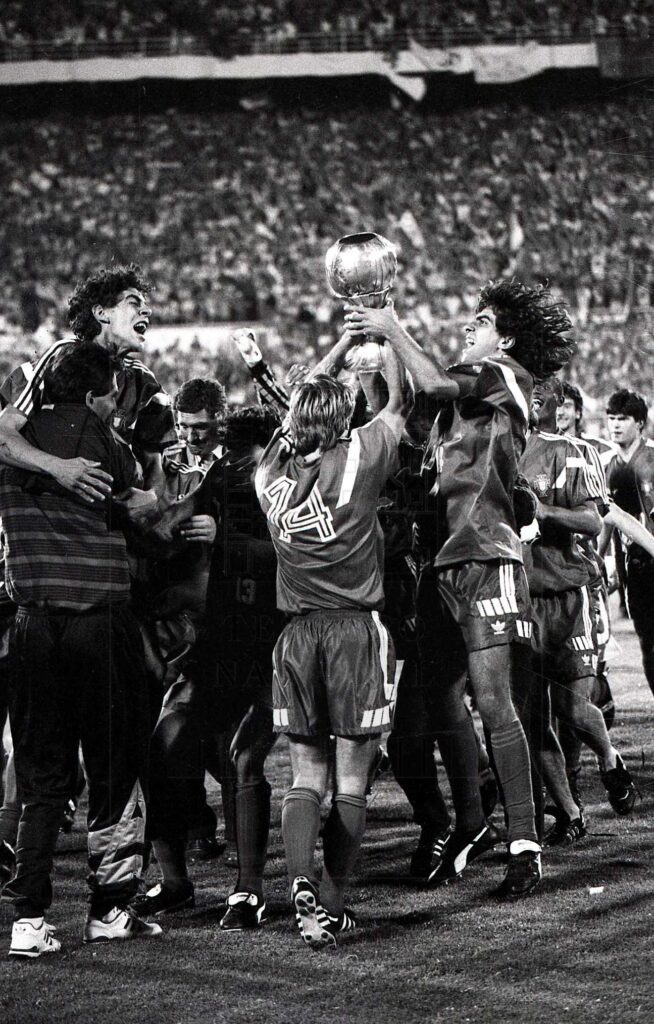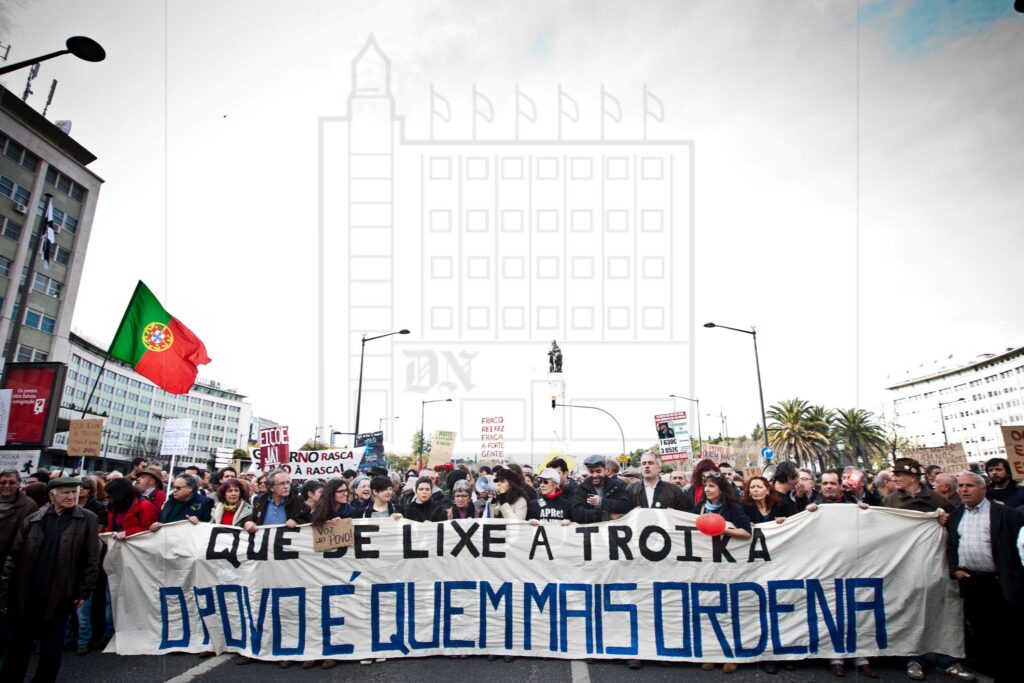 MANIFESTATION "QUE SE LIXE A TROIKA"
Demonstration against austerity measures and policies, called by the movement "Que se lixe a Troika, o povo é quem mais ordena!". The demonstration gathered more than 40 cities, in Portugal and abroad, with more than a million people on the streets. In Lisbon, protesters concentrated in Marquês de Pombal and walked down Avenida da Liberdade
Photo: Paulo Spranger/GMG
Lisbon, March 2, 2013
PORTUGAL EUROPEAN FOOTBALL CHAMPION
Portugal wins the French national team in the final of Euro 2016 with a goal from Éder at minute 109, at the Stade de France, in Paris. Portugal became European football champion for the first time. In the moments that followed, the streets of cities, towns, villages and settlements in Portugal were filled with celebrations. People called family and friends. The excitement was so overwhelming that the telecommunications network was even down in some parts of the country
Photo: Gerardo Santos
France, July 10, 2016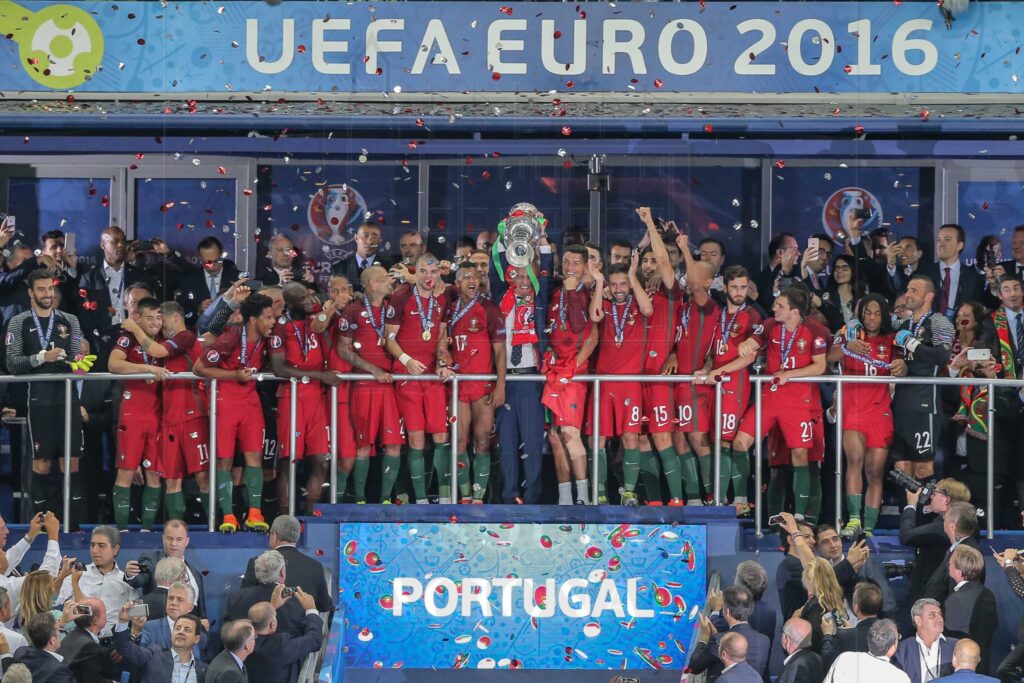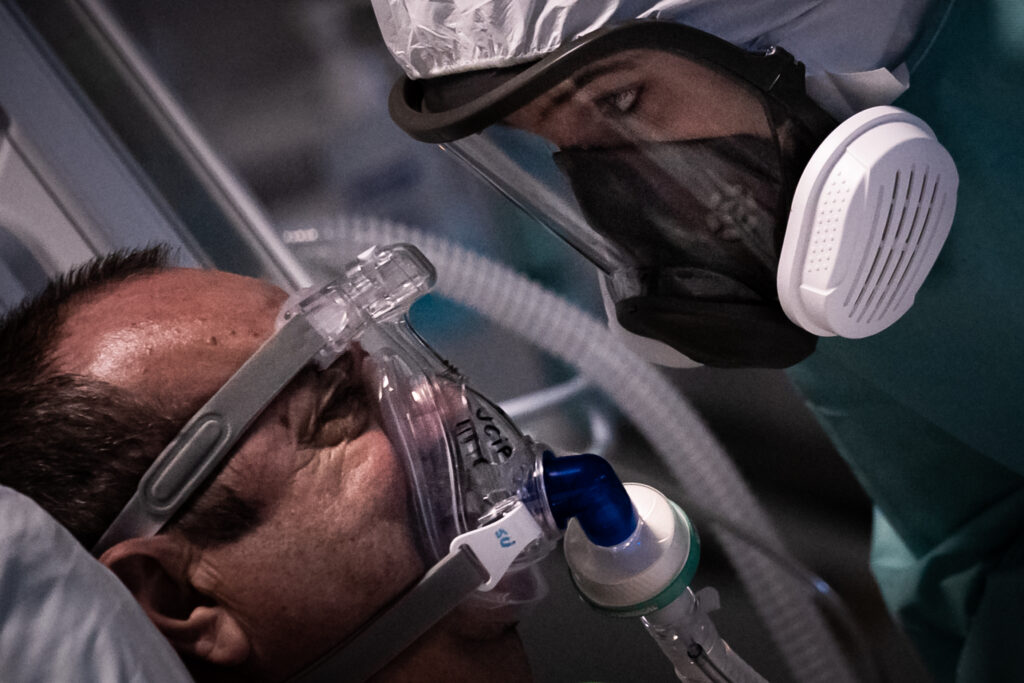 Braga hospital services during the Covid-19 pandemic. The first cases of the SARCOV2 virus arrive in Portugal in early March 2020. In the following month, the number of positive cases in the country intensifies 
Photo: Gonçalo Delgado/GMG
Braga, April 16, 2020
In Lviv, in the Armenian neighborhood, is the Armenian Orthodox Christian Church. With the help of Polish technicians, the statue of Christ, one of the oldest statues, dating from the 15th century, is removed and protected.
Photo: André Luis Alves
Ukraine, February 4, 2022